TRM® Level 1: San Diego, CA
TRM® Level 1: San Diego, CA
This training is full. Please CLICK HERE to be put on the waiting list.
CLICK HERE if you've been approved to register from the waitlist.
Dates: June 14-16, 2019
Times: Friday (9am-5pm); Saturday (9am-5pm); Sunday (9am-4pm)
Location: North County San Diego (exact location TBD)
CEs: 18.5 hours ($25 sold separately - click here for more information)
"Early bird" pricing: You will receive a discount of $100 if you register at least 30 days prior to the start date of the training.
sold out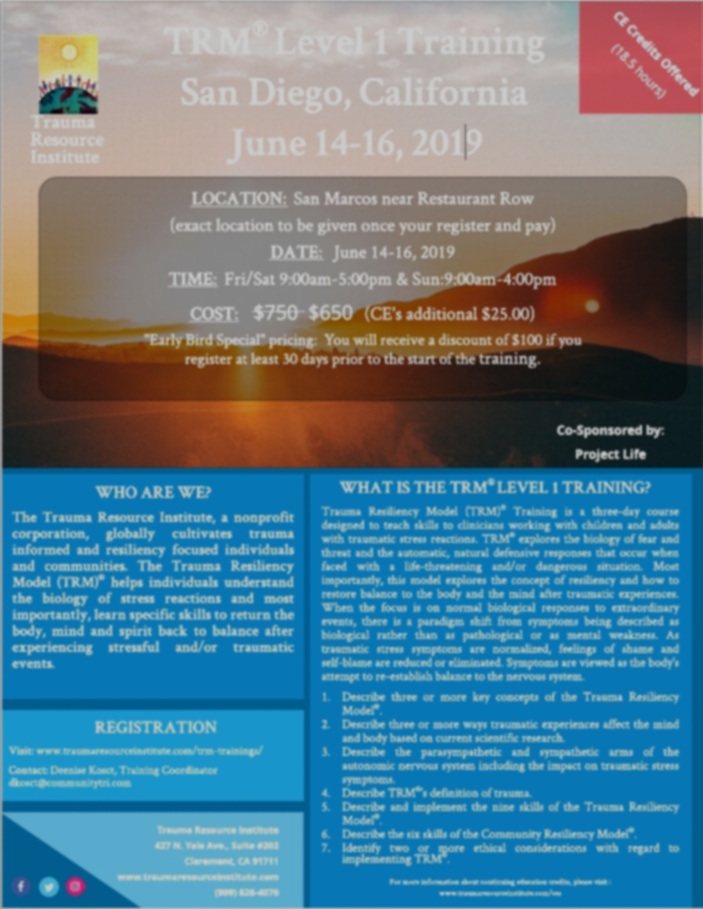 Description: TRM® Level 1 is a three-day course designed to teach skills to clinicians working with children and adults with traumatic stress reactions. The training is a combination of lecture, discussion and small group practice that explores the biology of fear and threat and the automatic, natural defensive responses that occur when faced with a life-threatening and/or dangerous situation. Most importantly, this model explores the concept of resiliency and how to restore balance to the body and the mind after traumatic experiences. When the focus is on normal biological responses to extraordinary events, there is a paradigm shift to symptoms being described as biological rather than as pathological or as mental weakness. As traumatic stress symptoms are normalized, feelings of shame and self-blame are reduced or eliminated. Symptoms are viewed as the body's attempt to re-establish balance to the nervous system.
Refund Policy: If you cannot attend the TRM® training you have registered for, we can transfer your registration fee to another future training. In order to receive a refund less $100.00 administrative and processing fee, you must give 3 weeks advance notice of the start of your intended TRM® training. If you have questions regarding the training, please contact our Training Coordinator: Deenise Kosct at (909) 360-6879 or by email at dkosct@communitytri.com.
Discounts & Scholarships: The Trauma Resource Institute is pleased to offer individual scholarships and group discounts (3 or more people). For more information please email Deenise Kosct at dkosct@communitytri.com.
Accommodations for the differently abled: Training facilities are handicap accessible. Individuals needing special accommodations, please contact Deenise Kosct at (909) 360-6879.
Elaine Miller-Karas, LCSW
(909) 360-6879
dkosct@communitytri.com
Difficulty registering online contact:
(909) 360-6879
dkosct@communitytri.com